More state conventions join NAMB in
Send Network partnerships
ALPHARETTA, Ga. – The North American Mission Board (NAMB) has, in recent years, developed Send Network agreements with state conventions across North America to enhance partnership and church planting within the SBC.
So far, 23 state conventions and Canada, have signed up to become official Send Network states, opening the door for Send Network's processes for assessment, training, coaching and care to become a resource for more church planting missionaries.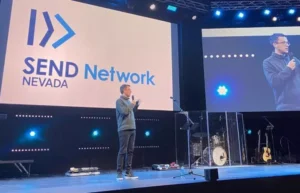 Most recently, the Nevada Baptist Convention (NBC) announced its agreement and the launch of Send Network Nevada during its annual meeting, Oct. 17Josh Carter, director of Send Network Nevada, addresses the crowd at the Nevada Baptist Convention (NBC) annual meeting, Oct. 17-18. The North American Mission Board (NAMB) and the NBC formed a partnership to fuel church planting across the state of Nevada. Nevada Baptist Convention photo-18 at LifeChurch Reno.
"We are thankful for the church planters around the country who are being called to Nevada," NBC Executive Director Damian Cirincione said during the meeting. "But we also want to create a culture of church planting that results in Nevada church planters being developed in Nevada churches. This will be a natural result of a greater discipleship focus in our churches."
Many different cultures and ethnicities comprise the state, and the NBC aspires to help churches in big cities and small towns develop an ethic of evangelism and discipleship that will expand the kingdom of God throughout the state, Cirincione added.
"Nevada is the fifth-fastest growing state in the nation, with Las Vegas being one of the fastest-growing, most global cities in the nation," said Josh Carter, director of Send Network Nevada. "In northern Nevada, Reno is growing tremendously. No church will, on its own, ever be able to multiply quickly enough to move the needle in the right direction. We must have another level of kingdom collaboration happening where churches of all sizes play a part in church planting in some way."